Mini – Sweet & Spicy Asian Ribs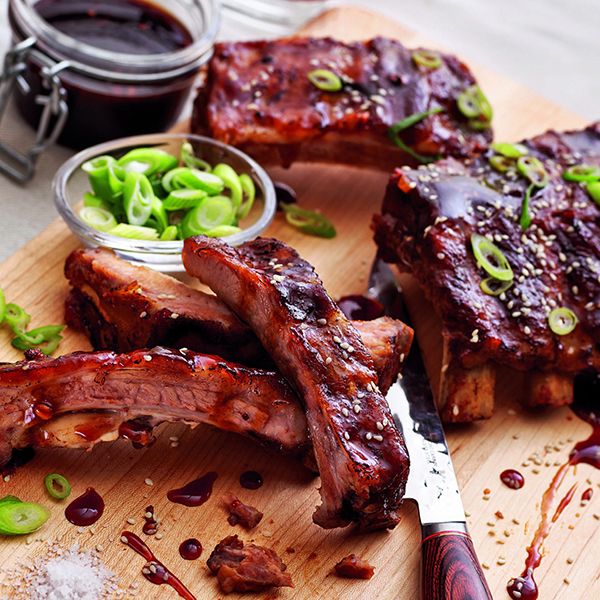 1/2

cup

Ketchup

1/2

cup

Sugar

1/2

cup

Soy Sauce

3

tbsp

Honey

1

tbsp

Hoisin Sauce

1

tbsp

fresh ginger

minced

2

cloves

garlic

minced

1/2

tsp

Red Pepper Flakes
2-3

pound

1 Rack Baby Back Ribs

cut in half to fit into the pot

1

tbsp

Salt

1

tbsp

Pepper

1/2

cup

Vinegar

1

tbsp

Sesame Seeds

for garnish

2

tbsp

Sliced Green Onions

for garnish
1/2

cup

Ketchup

1/2

cup

Sugar

1/2

cup

Soy Sauce

3

tbsp

Honey

1

tbsp

Hoisin Sauce

1

tbsp

fresh ginger

minced

2

cloves

garlic

minced

1/2

tsp

Red Pepper Flakes

2-3

pound

1 Rack Baby Back Ribs

cut in half to fit into the pot

1

tbsp

Salt

1

tbsp

Pepper

1/2

cup

Vinegar

1

tbsp

Sesame Seeds

for garnish

2

tbsp

Sliced Green Onions

for garnish
In a small saucepan, combine all the sauce ingredients. Whisk over medium heat until the sugar is dissolved and the sauce begins to thicken.
Remove the membrane from the back of ribs, if that has not already been done. Liberally salt and pepper both sides of ribs and smear 2 ounces of the sauce on the meaty side.

Pour 1/2 cup water and vinegar into the Instant Pot inner pot. Lay the ribs in the pot, meaty side down, overlapping them as needed.

Secure the lid, ensuring the valve is turned to the Sealing position. Press the Pressure Cook button and set the time to 25 minutes.

While the ribs cook in the appliance, turn the oven on to broil, or heat up the grill.

Once cooking is complete, allow the appliance to natural release for 10 minutes and then turn the valve to the Venting position to release the pressure. When all the pressure is released, carefully remove the lid.

Using tongs, remove the ribs and place them, meaty side up, on a rack sitting on a rimmed baking sheet. Slather the remaining sauce on the ribs and place them 4 inches below the broiler for 5 to 10 minutes, or until nicely charred.

Remove the ribs from the broiler and top with sesame seeds and green onions. Serve immediately.

TIP: The ribs can go into the Instant Pot with or without the steam rack. These will work either way.