Lengua Estofado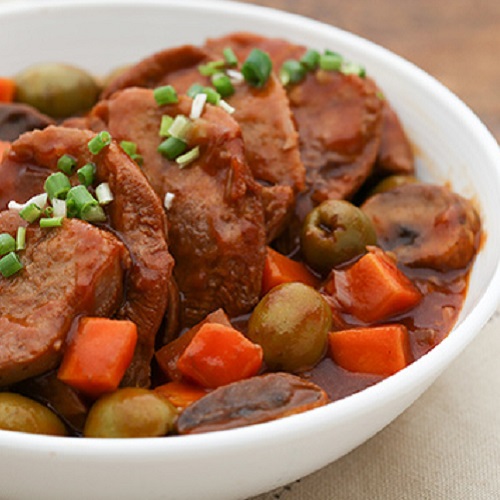 1

k

ox tongue

1

tbsp

rock salt

1

tbsp

pepper corns

1

stem

leaks

1

pc

White Onion

3

tbsp

olive oil

2

tbsp

garlic

chopped

2

pcs

Bay leaves

1/2

cup

Carrots

cubed

1/2

cup

Mushrooms

2

tbsp

tomato paste

1 1/2

cup

tomato sauce

2

tbsp

Soy Sauce

1/4

cup

green olives

1

cup

beef broth

1/2

cup

Green bell pepper

1/2

cup

Yellow bell pepper

100

g

baby potatoes

Salt

pepper corns
1

k

ox tongue

1

tbsp

rock salt

1

tbsp

pepper corns

1

stem

leaks

1

pc

White Onion

3

tbsp

olive oil

2

tbsp

garlic

chopped

2

pcs

Bay leaves

1/2

cup

Carrots

cubed

1/2

cup

Mushrooms

2

tbsp

tomato paste

1 1/2

cup

tomato sauce

2

tbsp

Soy Sauce

1/4

cup

green olives

1

cup

beef broth

1/2

cup

Green bell pepper

1/2

cup

Yellow bell pepper

100

g

baby potatoes

Salt

pepper corns
Scrub the tongue with rock salt then rinse. Place the ox tongue in a potand put water enough to cover the tongue. Set on high pressure for 40 minutes.

Release the pressure and dispose the liquid. Remove the tongue and carefully peel off the skin. cut into cubes then set aside.

Set in saute mode, Saute the onions, garlic, aby leaves, leeks, carrots, mushrooms and bell pepper.

Add the tomato paste, sauce, broth, salt and pepper. Set to low pressure until the sauce thickens.

Add the cubed ox tongue to the sauce mixture and serve.