Grilled Pineapple Upside Down Cake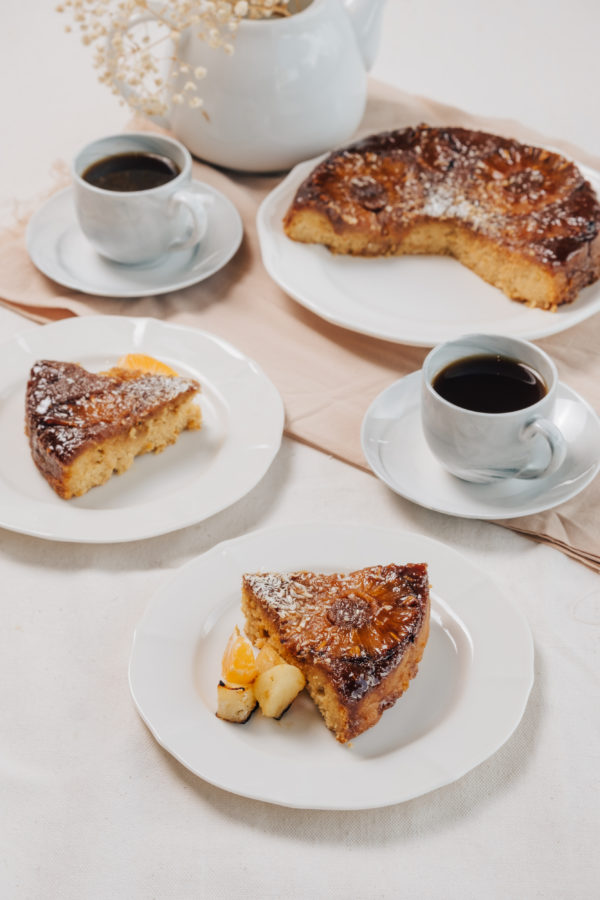 4

tbsp

salted butter

melted

1

can

pineapple slices

grilled

1/2

cup

coconut sugar

1

tsp

Cinnamon
2

pcs

Eggs

1/3

cup

Yogurt

4

tbsp

Butter

1

cup

almond flour

1/4

cup

coconut flour

1/4

cup

coconut sugar

2

tsp

Baking powder

1/4

tsp

Salt
4

tbsp

salted butter

melted

1

can

pineapple slices

grilled

1/2

cup

coconut sugar

1

tsp

Cinnamon

2

pcs

Eggs

1/3

cup

Yogurt

4

tbsp

Butter

1

cup

almond flour

1/4

cup

coconut flour

1/4

cup

coconut sugar

2

tsp

Baking powder

1/4

tsp

Salt
Grill the pineapple slices by tossing them in cooking oil and Air Frying in the Vortex at 190C for 15 minutes. Set aside.

Mix the melted butter, coconut sugar, and cinnamon together in a small bowl. Evenly spread the sugar mixture over the bottom of an ungreased 9-inch square or round pan. Arrange pineapple slices on top of the sugar mixture.

Add the cake batter ingredients to a food processor. Process until smooth. Drop by spoonfuls on top of the pineapple. Gently spread to cover all the grilled pineapple.

Set the Vortex Air Fryer to Bake at 180C for 30 minutes.

Bake the cake until slightly firm to touch.

Cool for 20 minutes and then invert onto a serving platter.