Quick and Easy Steam Yam Cake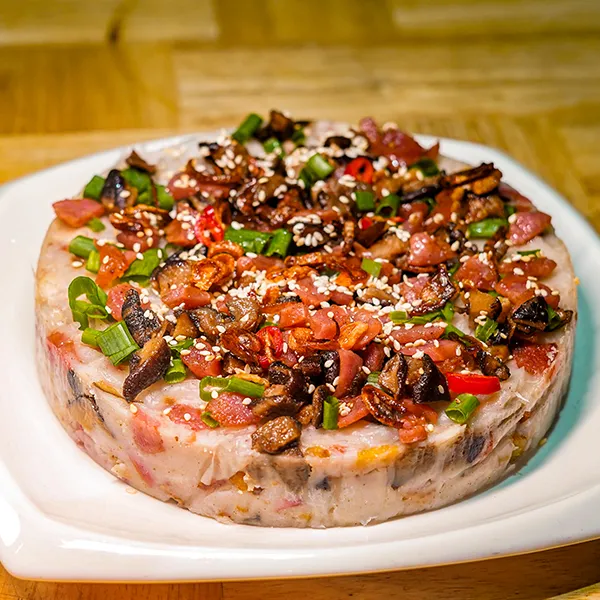 200

g

Yam

peeled and cubed

50

g

Dry Prawns

chopped

100

g

Chinese sausage

cubed small

5

g

Dry Mushrooms

soaked

1/2

tbsp

garlic

chopped

1/2

tbsp

Shallot

chopped
150

g

Rice flour

10

g

Tapioca flour

10

g

Wheat starch

1/2

tsp

Salt

1/2

tsp

Sugar

400

ml

Water
1/2

tsp

5-spice powder

1/2

tsp

Pepper

1/4

tsp

A pinch of salt
Mushrooms

Spring Onions

Shallot crisps

Toasted Sesame Seeds

Chillies

chopped
200

g

Yam

peeled and cubed

50

g

Dry Prawns

chopped

100

g

Chinese sausage

cubed small

5

g

Dry Mushrooms

soaked

1/2

tbsp

garlic

chopped

1/2

tbsp

Shallot

chopped

150

g

Rice flour

10

g

Tapioca flour

10

g

Wheat starch

1/2

tsp

Salt

1/2

tsp

Sugar

400

ml

Water

1/2

tsp

5-spice powder

1/2

tsp

Pepper

1/4

tsp

A pinch of salt

Mushrooms

Spring Onions

Shallot crisps

Toasted Sesame Seeds

Chillies

chopped
Combine all the ingredients of B in a mixing bowl. Strain and set aside for 1 hour.

Squeeze dry the soaked mushroom and dice them in small cubes.

Heat 2 tbsp. of oil in the Instant Pot. Press Saute and saute the chopped garlic and shallots. Stir fry the mushrooms, dry prawns, and lap cheong until fragrant. Remove half for the topings and set aside.

Add the yam into the inner pot. Stir fry then add in batter B. Saute on Low and keep stirring until slightly thickened. Press Cancel.

Transfer the batter into an oiled 7-inch stainless steel or bakesafe container. Level the surface.

Cover the lid and select Steam mode on High Pressure and High Heat for 15 minutes. Naturally release pressure when done cooking.

Let the yam cake cool before transfering into a plate. Garnish and serve.