La Paz Batchoy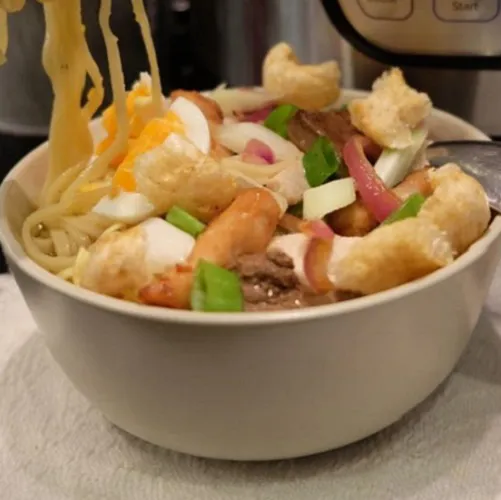 8

cups

Chicken Stock

1

tbsp

Soy Sauce

6

cloves

garlic

chopped

1

head

Onion

1

tbsp

Brown Sugar

3

tbsp

Hibe

200

g

Pork

200

g

chicken

150

g

Pork Liver

1/2

k

Noodles

Pepper
1

tbsp

Chicharon

1

tsp

Fried Garlic

1

tsp

Spring Onions

chopped

1

pc

Egg
8

cups

Chicken Stock

1

tbsp

Soy Sauce

6

cloves

garlic

chopped

1

head

Onion

1

tbsp

Brown Sugar

3

tbsp

Hibe

200

g

Pork

200

g

chicken

150

g

Pork Liver

1/2

k

Noodles

Pepper

1

tbsp

Chicharon

1

tsp

Fried Garlic

1

tsp

Spring Onions

chopped

1

pc

Egg
Select the pressure cook on high. Put everything in the pot with out the noodles.

Set the time into 10 minutes.

Release the pressure and set all the proteins aside leaving the stock in the pot.

Place the noodles in the pot and simmer for 5 to 8 minutes or just until tender.

Transfer the noodle and broth in a bowl, top it with the liver, pork and chicken slices and place the garnish.