Kare-kare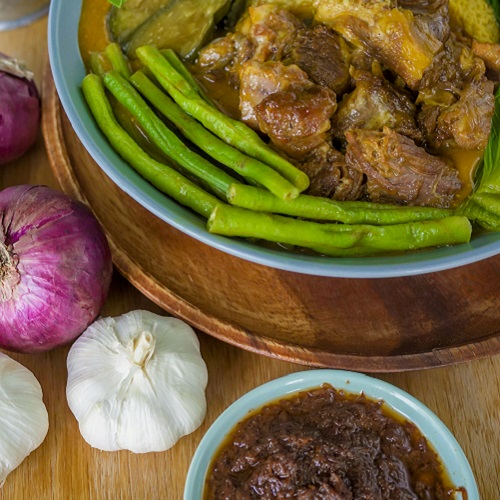 1/2

k

beef

1/2

k

ox tripe

1

head

garlic

chopped

1

bulb

Onion

sliced

3

pcs

egg plant

sliced

2

pcs

bokchoy

root removed

150

g

green beans

4

cups

Beef stock

2

cups

ground peanut butter

3

tbsp

Fish Sauce

3

tbsp

annatto oil

Salt

fermented shimp paste

Oil
1/2

k

beef

1/2

k

ox tripe

1

head

garlic

chopped

1

bulb

Onion

sliced

3

pcs

egg plant

sliced

2

pcs

bokchoy

root removed

150

g

green beans

4

cups

Beef stock

2

cups

ground peanut butter

3

tbsp

Fish Sauce

3

tbsp

annatto oil

Salt

fermented shimp paste

Oil
Set the pressure cooker on saute mode, pour about a tablespoon of cooking oil. Once the pot is hot, wear the oxtail, turning after 1-2 minutes to brown all sides

Remove the oxtail and set on a plate. Saute the onions and garlic in the pot.

Deglaze the pot by pouring in 1 cup of the beef broth and scraping the bottoms of the pan with a wooden spoon, being sure to release all of the brown bits stuck to the bottoms of the pot.

Return the oxtail and tripe to the pot and pour in the remaining 3 cups of beef stock. Close the lid, ensure the release valve is set to "seal." Set the pressure cooker to high pressure and pressure cook for 45 minutes.

Once the oxtail and tripe is done, turn the pressure release valve with a wooden spoon to avoid injury. Open the lid and remove the oxtail and set in a big bowl or pot.

Mix in the patis (fish sauce), peanut butter, and annato powder. Let it thicken then put the vegetables in until tender.