Chicken Teriyaki Meatballs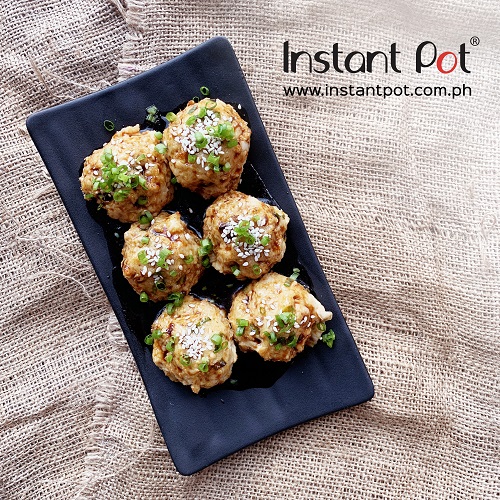 700

g

Ground Chicken Thighs

1/2

cup

Panko Bread Crumbs

1/4

cup

Leeks

finely chopped

1

large

Egg

lightly beaten

2

tsp

Ginger

finely grated

4

cloves

garlic

finely minced

1

tsp

Sesame Oil

1/2

tsp

Salt

1/2

tsp

Ground Pepper
1/4

cup

Sake

1/4

cup

Mirin

1/4

cup

Brown Sugar

1/2

cup

Soy Sauce

1/2

cup

Chicken Broth

1/8

cup

Water

1/8

cup

CornStarch
700

g

Ground Chicken Thighs

1/2

cup

Panko Bread Crumbs

1/4

cup

Leeks

finely chopped

1

large

Egg

lightly beaten

2

tsp

Ginger

finely grated

4

cloves

garlic

finely minced

1

tsp

Sesame Oil

1/2

tsp

Salt

1/2

tsp

Ground Pepper

1/4

cup

Sake

1/4

cup

Mirin

1/4

cup

Brown Sugar

1/2

cup

Soy Sauce

1/2

cup

Chicken Broth

1/8

cup

Water

1/8

cup

CornStarch
In a large bowl, mix together chicken, bread crumbs, leeks, egg, ginger, garlic, sesame oil, salt, and pepper until thoroughly combined. Form mixture into 1-inch meatballs.

In the Instant Pot, mix all teriyaki sauce ingredients except water and cornstarch.

Directly place the meatballs into the Instant Pot and sauce, layering the bottom without cramming them. Once the bottom is covered in meatballs, add a second layer by gently placing the remaining meatballs on top of the bottom layer.

Close the lid and turn the pressure valve to SEALING. Press [PRESSURE COOK] function on [HIGH] and set the time to 5 minutes.

Meanwhile, mix the water and cornstarch together.

Once Instant Pot is done cooking, QUICK RELEASE pressure by turning the valve. Open the valve and add in as much of the cornstarch mix needed to thicken the teriyaki sauce. Mix well until the sauce thickens.

Serve and enjoy with Instant Pot white rice.