Chicken Inasal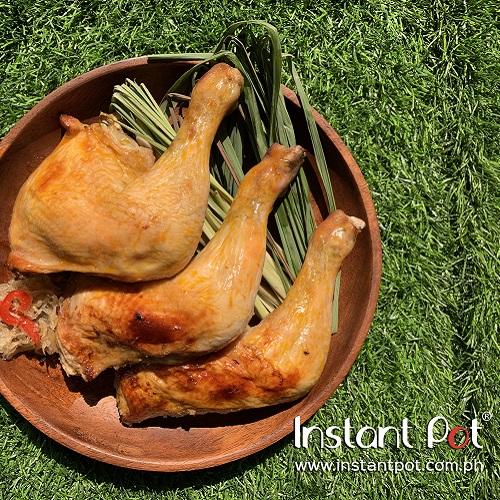 4

pcs

chicken leg quarters

2

tbsp

Ginger

minced

2

tbsp

garlic

minced

3/4

cup

Lemongrass

chopped

1

cup

coconut vinegar

1

cup

lemon or calamansi juice

1

tbsp

Salt

1/4

cup

Brown Sugar

1

cup

lemon soda soft drink

1/2

tbsp

Ground Black Pepper

1/2

cup

annatto oil
3

tbsp

annatto oil

1/2

cup

butter softened

1/4

tsp

Salt

1

tsp

calamansi juice
4

pcs

chicken leg quarters

2

tbsp

Ginger

minced

2

tbsp

garlic

minced

3/4

cup

Lemongrass

chopped

1

cup

coconut vinegar

1

cup

lemon or calamansi juice

1

tbsp

Salt

1/4

cup

Brown Sugar

1

cup

lemon soda soft drink

1/2

tbsp

Ground Black Pepper

1/2

cup

annatto oil

3

tbsp

annatto oil

1/2

cup

butter softened

1/4

tsp

Salt

1

tsp

calamansi juice
Add all the ingredients for the chicken except annatto oil in the Instant Pot. Close lid and point valve to SEALING. Press [POULTRY] function and set at [High] for 25 minutes, followed by 10 minutes of Natural Pressure Release.

Mix the ingredients of the basting sauce together.

Once done cooking, release manually the remaining pressure. Empty the pot, separating the chicken from the other ingredients. Pat dry the chicken with a kitchen towel.

Set Instant Pot into [SAUTE] function. Once Hot appears on screen. Pour in the annatto oil for the chicken in the pot. Brown the dried chicken on both of its sides. Take out from the pot and baste with the basting sauce.

Serve with more sauce if desired and garnish with chopped green onions.