Fragrant Yam and Pumpkin Rice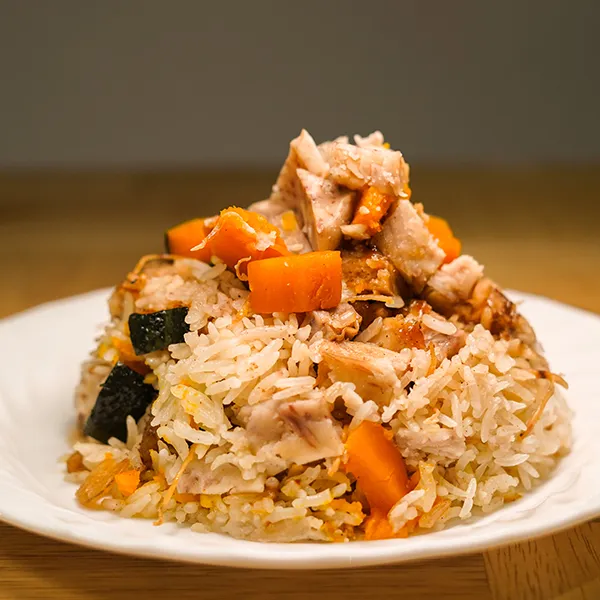 300

g

Rice

150

g

Yam

cut into cubes

150

g

Pumpkin

cut into cubes

30

g

Dried Prawns

fried

15

g

Dried Cuttlefish

fried

15

g

Dried Mushrooms

soaked and drained

1/2

tbsp

garlic

chopped

1

tbsp

Shallot

chopped
1

tsp

Chicken powder

1

tbsp

oyster sauce

1

tsp

Sugar

1

tsp

Pepper

375

ml

Water
300

g

Rice

150

g

Yam

cut into cubes

150

g

Pumpkin

cut into cubes

30

g

Dried Prawns

fried

15

g

Dried Cuttlefish

fried

15

g

Dried Mushrooms

soaked and drained

1/2

tbsp

garlic

chopped

1

tbsp

Shallot

chopped

1

tsp

Chicken powder

1

tbsp

oyster sauce

1

tsp

Sugar

1

tsp

Pepper

375

ml

Water
Wash then soak the rice for 20 mins. Drain then set aside.

Slice the rehydrated mushrooms into cubes. Marinate with 1/2 tsp sugar and 1 tsp oyster sauce.

Press Saute on the Instant Pot. Heat 2 tbsp of oil and saute the garlic and shallots until fragrant. Add in the marinated mushrooms and stir fry. Add in the yam, pumpkin, and rice. Fry and stir in the rest of the ingredients.

Cover the Instant Pot with the lid. Select the Rice function.

Naturally release pressure for at least 10 minutes. Serve and garnish with shallots crisps and diced spring onions.