Dalandan Cake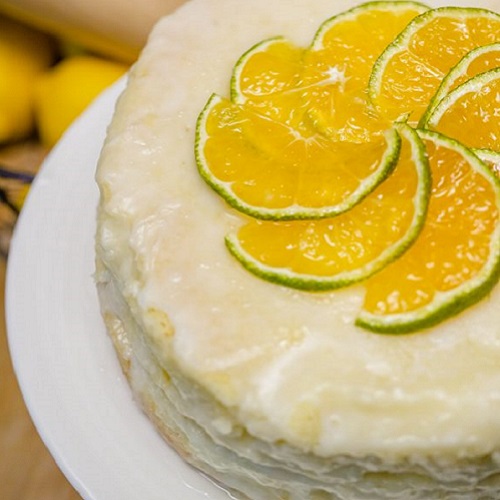 198

g

All-Purpose Flour

2

tsp

Baking powder

1/4

tsp

Baking soda

1

tbsp

dalandan zest

150

g

Granulated sugar

1/4

tsp

Salt

113

g

Butter

cubed and softened

2

pcs

medium-sized eggs

1/4

cup

whole milk

1/4

cup

dalandan juice

1 1/2

tsp

vanilla extract
2 1/2

cups

confectioners sugar

3

tbsp

whole milk

2

tbsp

dalandan juice
Parchment Paper

Aluminum foil

Twine

9"-in cake pan
198

g

All-Purpose Flour

2

tsp

Baking powder

1/4

tsp

Baking soda

1

tbsp

dalandan zest

150

g

Granulated sugar

1/4

tsp

Salt

113

g

Butter

cubed and softened

2

pcs

medium-sized eggs

1/4

cup

whole milk

1/4

cup

dalandan juice

1 1/2

tsp

vanilla extract

2 1/2

cups

confectioners sugar

3

tbsp

whole milk

2

tbsp

dalandan juice

Parchment Paper

Aluminum foil

Twine

9"-in cake pan
Cut a round shape on the parchment paper and place this at the bottom of the cake pan. Grease the pan with a portion of the softened butter. Set aside.

In a large bowl, combine the flour, baking powder, baking soda, and dalandan zest. Then, in another bowl combine the milk and dalandan juice.

Whisk in the butter into the bowl of flour mixture then mix in the sugar. Add the milk with the dalandan juice, vanilla, and eggs. Whisk until well-combined.

Pour the batter into the cake pan. Cover the pan with aluminum foil and secure tightly. Tie the twine from its top to bottom. This would help lift up the pan off the pot later.

Place the steam rack in the Instant Pot® and pour in 2 cups of water.

Next, place the cake pan inside. Close the lid and set the steam release handle to the Sealing Position. Select [Pressure Cook] and [Pressure Level] to High then use the [+] or [-] buttons to set the time to 45 mins.

Once done cooking, open the lid and carefully lift out the cake by the string. Remove the foil and the cake from the pan. Peel off the parchment paper and let the cake rest for 30 mins.

For the glaze, whisk all the ingredients listed and pour over the dalandan cake.

Garnish with candied dalandan slices on top.
Bake two recipes at a time if double-layered cake is desired.