Chicken Roulade with Cherry-Almond Risotto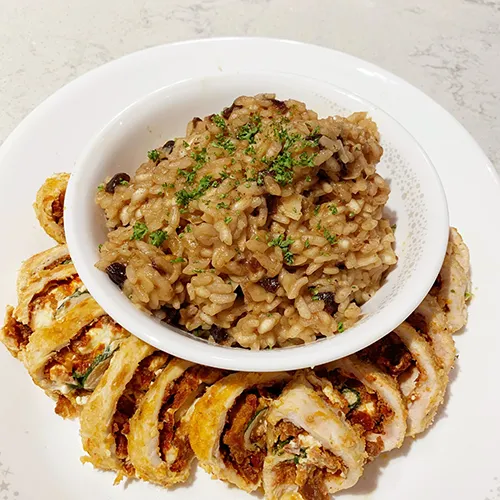 1 (10 ounce)

jar

oil-packed sun dried tomatoes

chopped

4

cloves

garlic

1/2

cup

Grated Parmesan Cheese

4

boneless chicken breasts

1/2

cup

cream cheese

cut into 1 inch cubes

1

cup

baby spinach leaves

1/2

cup

breadcrumbs
1 1/2

cup

Arborio Rice

3

cups

Chicken Broth

1 1/2

tbsp

Butter

divided

1/2

cup

slivered almonds

1

pc

White Onion

chopped

1/2

cup

white wine

1/2

cup

dried cherries

chopped

1/2

cup

Parmesan cheese

1/4

cup

chopped parsley for garnish
1 (10 ounce)

jar

oil-packed sun dried tomatoes

chopped

4

cloves

garlic

1/2

cup

Grated Parmesan Cheese

4

boneless chicken breasts

1/2

cup

cream cheese

cut into 1 inch cubes

1

cup

baby spinach leaves

1/2

cup

breadcrumbs

1 1/2

cup

Arborio Rice

3

cups

Chicken Broth

1 1/2

tbsp

Butter

divided

1/2

cup

slivered almonds

1

pc

White Onion

chopped

1/2

cup

white wine

1/2

cup

dried cherries

chopped

1/2

cup

Parmesan cheese

1/4

cup

chopped parsley for garnish
Combine dried tomatoes, parmesan, and garlic. Pound in a mortar and pestle, or use a food processor to form a chunky paste. Season with salt and pepper. Add more oil from the jar if necessary.

Place chicken breasts between two sheets of plastic wrap and pound until thin. Lie chicken breasts smooth side down and spread each evenly with sun-dried tomato paste. Place squares of cream cheese over tomato paste and cover with spinach leaves. Starting at a short end, tightly roll up chicken. Brush each with more reserved oil, roll in panko and place the seam side down.

Press saute on the IP and brown all sides of the breasts. Take out of the inner pot and place in the heatsafe pan.

Make the risotto: Melt butter in the inner pot. Add onion and cook until soft. Saute in the cherries. Add rice and almonds and stir until toasted. Deglaze pot with wine. Cook until most of the wine is absorbed, then turn Sauté function off. Add the chicken broth.

Place the trivet with the pan of chicken. Close lid and pressure cook at High Pressure for 5 minutes + 10 minutes Natural Release. The floating pin may drop after 7 minutes, but leave the stuffed chicken breasts inside for full 10 minutes. Open the lid carefully.

Carefully remove trivet with the pan.Stir in the parmesan cheese in the risotto.

Sprinkle with parsley and serve hot.