Cheesy Ramen Recipe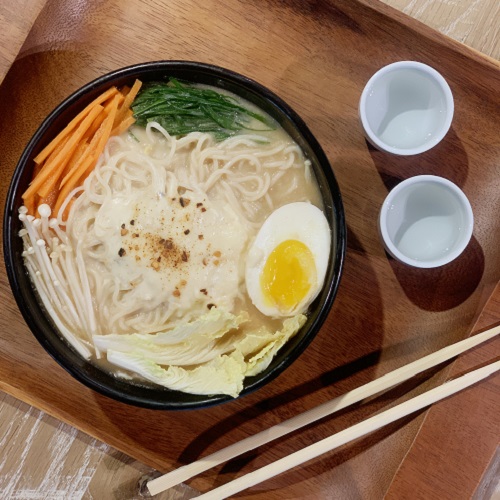 4

pcs

Eggs

soft boiled

1

cup

sweet yellow onion

sliced

200

g

Mushrooms

6

pcs

pechay Baguio leaves

1/4

cup

Green Onions

thinly sliced

4

cloves

garlic

minced

2

large

Carrots

thinly sliced

1

tbsp

Sesame Oil

1

tbsp

canola oil

4

cups

vegetable broth

1

cup

Water

4

tbsp

miso paste

1

tbsp

Mirin

1

tbsp

Soy Sauce

1/4

cup

evaporated milk

2

cups

cheddar cheese

sliced

226

g

dry ramen noodles

Sesame Seeds

for garnish
4

pcs

Eggs

soft boiled

1

cup

sweet yellow onion

sliced

200

g

Mushrooms

6

pcs

pechay Baguio leaves

1/4

cup

Green Onions

thinly sliced

4

cloves

garlic

minced

2

large

Carrots

thinly sliced

1

tbsp

Sesame Oil

1

tbsp

canola oil

4

cups

vegetable broth

1

cup

Water

4

tbsp

miso paste

1

tbsp

Mirin

1

tbsp

Soy Sauce

1/4

cup

evaporated milk

2

cups

cheddar cheese

sliced

226

g

dry ramen noodles

Sesame Seeds

for garnish
Make soft-boiled eggs: Pour 2 cups water into the IP, place steamer trivet inside and place eggs on top. Turn pressure valve to SEALING then press the [PRESSURE COOK] function and set it to [LOW] pressure. While cooking, fill a bowl with ice water. When the 3 minutes are up, release pressure by turning the valve to VENTING. Open the lid and transfer eggs to the prepared cold water. Let cool for 30 seconds or so, then peel. Slice in half lengthwise to eat with ramen.

Make ramen: Turn on [SAUTE] mode on MEDIUM and heat both oils in the pot. Add the onion and garlic and cook until just browned, stirring constantly. Add the vegetable broth and water, and turn off Saute mode.

Stir in the mushrooms and carrots, miso paste and mirin. Lock the lid of the Instant Pot. Place the pressure release handle in the SEALING position. Press [PRESSURE COOK] function and set on [HIGH]. Set time to 3 minutes.

When done, release pressure by turning the pressure release handle to VENTING using your mittened hands or a wooden spatula.

Turn on [SAUTE] mode to Low. Add the noodles and cook until tender, about 3 minutes.

Stir in remaining ingredients: Stir in the evaporated milk, green onions, cabbage, and cook 1 minute more. Taste and add about 1 tablespoon more miso paste to taste.

Serve: To serve, place the noodles into four bowls, dividing the broth on each. Place sliced cheddar cheese on each bowl and allow heat to melt. Garnish with more spring onions, sesame seeds and soft boiled eggs.