Braised Pork Trotter With Mushrooms & Chestnut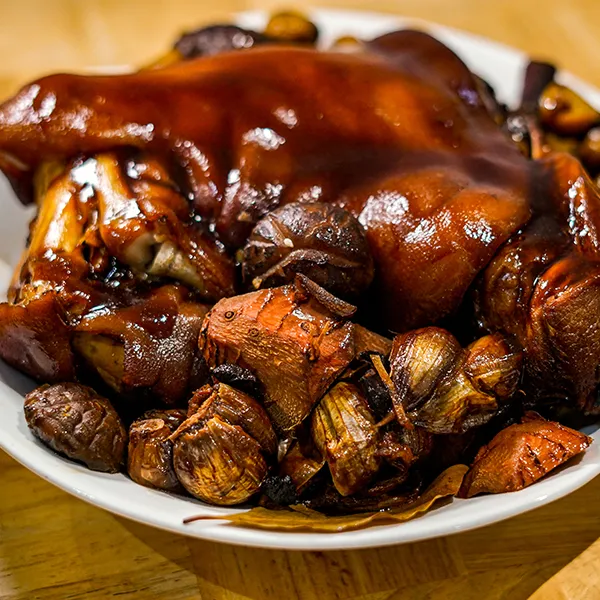 1

pc

Whole Pork Trotter

(~1.3 kg)

30

g

Dried Mushrooms
100

g

Whole Garlic

5

g

Cinnamon Sticks

30

g

Lengkuas (Blue ginger)

5

g

star anise

2

pcs

Bay leaves
150

ml

Light Soya Sauce

50

ml

Dark Soya Sauce

30

g

Brown Sugar

2

tsp

Chicken Seasoning Powder

800

ml

Water

3

tbsp

Rice Wine
1

tbsp

Corn flour

2

tbsp

Water
100

g

Ready-to-eat chestnuts
1

pc

Whole Pork Trotter

(~1.3 kg)

30

g

Dried Mushrooms

100

g

Whole Garlic

5

g

Cinnamon Sticks

30

g

Lengkuas (Blue ginger)

5

g

star anise

2

pcs

Bay leaves

150

ml

Light Soya Sauce

50

ml

Dark Soya Sauce

30

g

Brown Sugar

2

tsp

Chicken Seasoning Powder

800

ml

Water

3

tbsp

Rice Wine

1

tbsp

Corn flour

2

tbsp

Water

100

g

Ready-to-eat chestnuts
Soak dried mushrooms in water until soft, trim of the stalks. Bring a pot of water to boil , blanch pork trotter for 15 mins, Wash & drain. Rub the skin with 2 tbsp of dark soya sauce, set aside.

Heat 2 tbsp oil in Instant Pot using the Saute function. Saute B until fragrant, add in C , put in A.

Secure the lid and select Meat/Stew on More. Natural Release pressure when done cooking.

Open the lid and thicken the sauce with 1 tbsp cornflour mixed with 2 tbsp water. Bring to a boil until thick. Add in chestnuts.