Baked Brie with Dates and Walnuts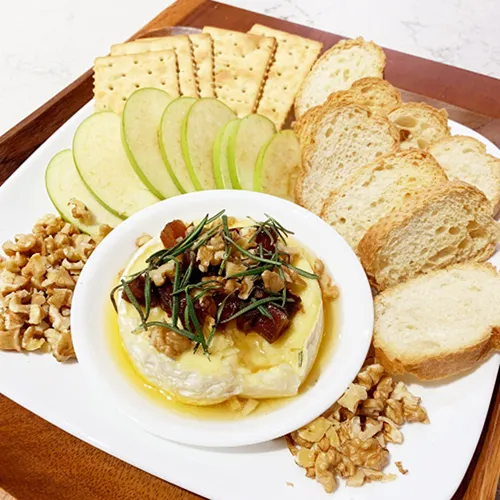 1

wedge or wheel of Brie

1/4

cup

Honey

1/2

cup

toasted walnuts

chopped

1/2

tsp

finely minced fresh rosemary

adjust according to taste preference

4

tbsp

dried dates

Salt

to taste

toasted bread, crackers, fruit

for serving
1

wedge or wheel of Brie

1/4

cup

Honey

1/2

cup

toasted walnuts

chopped

1/2

tsp

finely minced fresh rosemary

adjust according to taste preference

4

tbsp

dried dates

Salt

to taste

toasted bread, crackers, fruit

for serving
Unwrap brie and slice the top of the rind off. Place it back on the wheel of brie to keep the cheese from spilling over while it cooks.

Pour a cup of water in the inner pot and then place the trivet at the bottom.

Put the brie wheel in an Instant Pot loose bottom pan or a heat safe round container and seal the top tightly.

Lock the lid and set Instant Pot on Pressure Cook, High for 16 minutes.

Quick release pressure once done.

Carefully remove top of brie wheel and discard.

Drizzle brie with the honey, dried dates, rosemary, and walnuts.

Serve with your choice of bread and fruits.