Bagoong Pineapple Fried Rice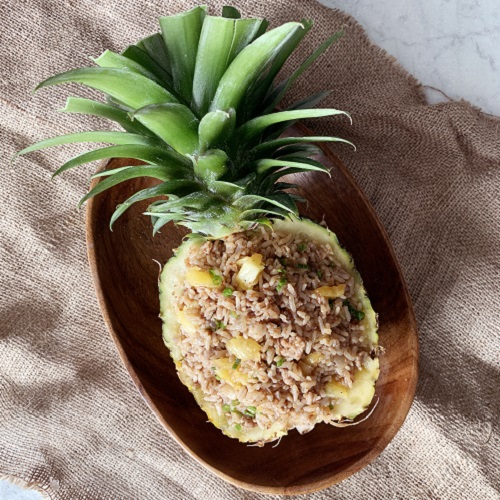 1

tbsp

canola oil

3

tbsp

garlic

minced

1

medium

White Onion

chopped small

1/4

cup

Leeks

finely chopped white parts only

2

pcs

green chilies

finely chopped

1

cup

canned pineapple chunks

4

tbsp

fresh basil leaves roughly chopped

divided

3

tbsp

bagoong

1/4

tsp

knob turmeric

2

tsp

thai sauce

1

tsp

Salt

2

cups

steamed short-grain white rice preferably a day old

1 1/4

cup

pineapple juice
1

tbsp

canola oil

3

tbsp

garlic

minced

1

medium

White Onion

chopped small

1/4

cup

Leeks

finely chopped white parts only

2

pcs

green chilies

finely chopped

1

cup

canned pineapple chunks

4

tbsp

fresh basil leaves roughly chopped

divided

3

tbsp

bagoong

1/4

tsp

knob turmeric

2

tsp

thai sauce

1

tsp

Salt

2

cups

steamed short-grain white rice preferably a day old

1 1/4

cup

pineapple juice
Select [SAUTE] function on the Instant Pot. When HOT appears on the screen, heat the oil and saute white parts of leeks, onion, and the pineapple. Next add the turmeric and garlic. Saute until translucent. Add bagoong, fish sauce, salt, basil, and day-old rice. Mix well until all rice is evenly coated. Add the pineapple juice and mix again.

Pressure cook the rice. Lock the lid into place. Select [PRESSURE COOK] , and adjust the pressure to High and the time to 3 minutes. Make sure the steam release knob is in the Sealed position. After cooking, naturally release the pressure for 3 minutes, then quick release any remaining pressure. Unlock and remove the lid.

Let the rice cool for 15 minutes. Using a fork, fluff the rice. Serve hot.